George McCaffrey
P.O. Box 23865
Oklahoma City, OK 73123
405-767-3300
fax 405-767-3309

ATTORNEYS
McCaffrey & Associates, PLLC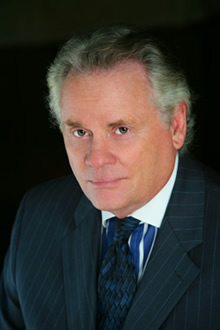 George McCaffrey, Senior Partner
Bar Admissions
Oklahoma Bar Association - 47 Year Member
Employment/Labor Section, Former Chair
United States District Courts
Western, Eastern, and Northern Districts of Oklahoma
U.S. Courts of Appeal
United States 10th Circuit Court of Appeals
United States Courts of Appeals Washington D.C. Circuit
Affiliations
Registry of Preeminent Lawyers of America Membership exclusively for Attorneys with the highest ratings for legal knowledge and ethics by Martindale-Hubble.

Highest rating for ethics and legal knowledge by Martindale-Hubble
Oklahoma Association of Trial Lawyers
Former Presidents Club member, Executive Committee member and Board of Directors
American Trial Lawyers Association
Former President's Club Member
National Employment Lawyer Association
American Bar Association
Tort/Insurance Section Member
Disability Law Section Member
Employment Law Section Member
<![if !supportLineBreakNewLine]>
<![endif]>
Disability-Related Organizations
CHADD (Children and Adults with Attention Deficit/Hyperactivity Disorder)
Professional Board of Director Member
COPPA (Council of Parents, Attorneys and Advocates)
Autism Society of America
Eastern Oklahoma Autism Society
Parents As Partners-Board of Directors
United Cerebral Palsy Association –Former Member Board of Directors
Disability Advocates of Oklahoma - Founder
Disability Law Section: American Bar Association
Areas of Practice
Workers Compensation
Social Security Appeals
Personal Injury
Medical Negligence
Brain Injuries
Dangerous Drugs
Defective/Dangerous Products
False Claims/Whistle Blowing
Employment
Sexual, Racial, Disability Harassment or Discrimination, Overtime –Failure to pay; not counting time spent before or after clocking in; improper classification to avoid payment of overtime.
Disability/Education Law (founder of Disability Advocates of Oklahoma)
(www.DisabilityAdvocateOk.com)
Enforcement of IDEA and/or Section 504 benefits; including obtaining damages (punitive, emotional distress, compensatory) for failing to provide FAPE under IDEA or refusal to provide 504 services
Children with Disabilities:
Special Education Services & Benefits Birth to 3 years and 3 years to 21 years
<![if !supportLineBreakNewLine]>
<![endif]>
Special Education Services
Helping Parents Develop and enforce IEP (Individualized Education Plans) for their children with disabilities, especially Autism and ADHD
Helping Parents experiencing Behavioral/ Suspension of their children with disabilities for conduct related to their disabilities.
Developing Behavioral Intervention Plans for children with Disabilities in order to prevent suspension/or other Disciplinary actions by schools.
Assistive technology devices: hearing aids; communications boards; wheelchairs; etc.
Medicare Fraud
Nursing Home Fraud, etc.
<![if !supportLineBreakNewLine]>
<![endif]>
Education
University of Oklahoma,
Bachelors of Business Administration, Finance, 1959
University of Oklahoma School of Law, J.D., 1962
Employment History
National Labor Relations Board - Trial Attorney
1962 - 1967
Lampkin, Wolfe, Able , McCaffrey, Norman, & Tawwater
1967-1978
McCaffrey & Tawwater
1978 - April 2001
McCaffrey & Associates
May 2001 - Present

Honors and Awards

Best Lawyers of America
Registry of Pre-Eminent Lawyers of America

Published Works

Oklahoma Workers' Compensation Law Summary
Workers' Compensation Instructional Video
Nursing Home Neglect/Abuse - How to Spot It and How to Stop It
Disability Education Law (and instructional video)
Family Medical Leave Act Instructional Video
Nursing Home Negligence and Abuse (instructional video)
Public Employee Bargaining in Oklahoma
Classes Taught/Seminars/Presentations:
Workers' Compensation
Nursing Home Abuse & Neglect
Medical Negligence
Disability Law
Family Medical Leave Act
Labor & Employment Law
Internal Union Problems
Representative Clients:
International Brotherhood of Teamsters, Local 886
International Brotherhood of Electrical Workers, Local 1141
Communication Workers of America, Locals 6009 and 6016
United Automobile Workers, Locals 1999 General Motors OKC & Local 286
American Federation of Teachers Local 4574
Sheetmetal Workers, Locals 124, 270, 464
Boilermakers Union
Grainmillers Union
American Postal Workers Union
Machinists Union Local - Vance Air Force Base, Enid, OK
Machinists Local W-15 Wearhouser & Pan Pacific
Oklahoma Building Trades
Associates
Anne Livingston, JD
Juris Doctorate, Workers Compensation
Amy Bankhead, Juris Doctor
Family Law